On our recent "Staycation" we were looking for things to do with the kids that were maybe a little different from our usual activities and that felt like something touristy you might do on vacation. Having grown up so close to Valley Forge National Park, I have driven through it, walked through it, hiked the trails, explored log cabins, Washington's Headquarters and even the Visitor's Center. I hadn't, however, ever done an official tour of Valley Forge and neither had anyone in my family. For that matter, I had barely even read the historical signs and markers that are throughout the park, perhaps taking a little bit of the "history in my own backyard" for granted. We planned to visit one afternoon of our staycation and when I visited the Valley Forge National Park website to explore what was open and accessible to the public during the pandemic, I discovered that there was an Encampment Audio Tour available that you can purchase and download and listen to in your car while driving from one marked spot to another.
This sounded like the perfect plan as we could get out of the house for a bit, perhaps bring a picnic and then begin our driving tour. My kids' new found interest in the American Revolution (thank you, Hamilton An American Musical) made them generally willing and eager participants. It was shaping up to be a great day weather-wise so that's just what we did, we packed a lunch and headed off to Valley Forge. Picnicking and hanging out at Valley Forge is one of my fonder memories of the park which was just a mile or two from where I grew up. We decided to begin our tour and stop for lunch along the way. The great thing about the audio tour is that you listen to a track at time, and are even given a suggested driving speed so that your car is properly paced with the attractions and landmarks. It's flexible so if you need to stop for lunch, linger at a given spot or make a restroom stop you just pause the audio and pick up where you left off when you are ready.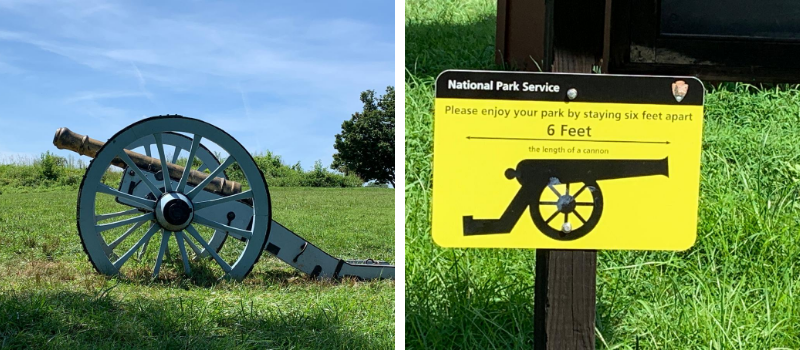 The Encampment Tour audio tour is great because, during a time when many are trying to lay low and keep a distance from others you really can do the entire tour from your car. However, we found the park to be relatively quiet and visitors were all keeping a respectful distance from one another and wearing masks when needed so we were able to get out at any stops that we wished to explore, read, take photos and enjoy what was a beautiful Pennsylvania, late-summer day.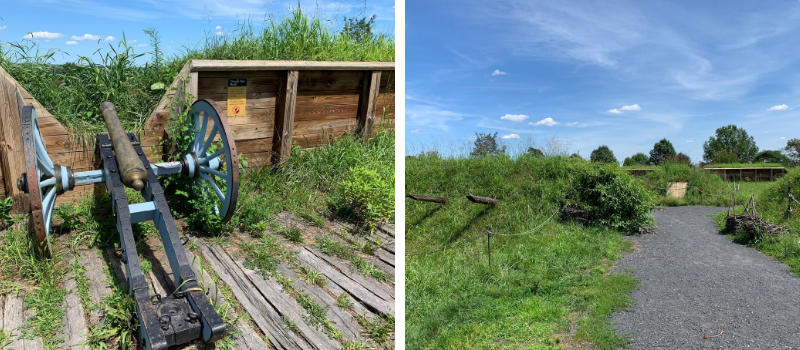 Just from getting out at many stops to explore or see the sites, we walked over 3 miles that afternoon. All that walking isn't needed but we did enjoy getting out to see some of the more interesting sites. Seeing log houses never gets old no matter how many times you've visited the park - and did you know that the soldiers built around 2000 of those cabins in about a month? One of our favorite stops was one that, in all of my many visits through Valley Forge, I had never seen. It is at stop number 2 of the tour near the log houses. The Continental Army built "redoubts" - essentially they used the earth and some building materials to build up a lookout that would protect them and give them a view of any potential attacks from the British. (You can learn more about them here.)
At Valley Forge you can actually walk around inside some of the redoubts and see how they were constructed and used to protect George Washington's army. We were all fascinated by these constructs and the stories behind them and how the soldiers used many earth formations to protect against any potential attacks. We saw a lot of pretty cool and kid-friendly sites on our visit (log houses, the Memorial Arch, George Washington's headquarters and the always-favored CANONS! but the redoubt and specifically our stop at Redoubt #2 -pictured above - was a family-favorite this visit.)

Here is a link to where we found and purchased our audio tour and found maps to print: https://www.nps.gov/vafo/planyourvisit/index.htm. I did notice and it's worth mentioning that the Chester County Library System has a CD-tour available to check-out and it would also be fun to check out some additional books on the park and the Revolutionary War as well to read before or after your visit. We didn't use that particular tour though but I'm sure it's equally useful (and free with your library card) so it may be an option to explore. The streaming Audio Tour we purchased was $6.95 through the Encampment Store and we spent about 3 hours doing the entire tour so we found it to be worthwhile. You don't need 3 hours but if you plan to get out and explore plan for more than an hour.
Some tips and suggestions for visiting Valley Forge and doing the Audio Tour with kids:
There are select restrooms open during the pandemic. We stopped at the restrooms at Wayne's Woods during our visit which is between stop 3 and 4.
Spoiler alert - one of my favorite views in all of Valley Forge Park is just after Anthony Wayne's statue - it's particularly beautiful in the Fall as you drive the South Outer Line Drive and take in the view from up high. My second favorite spot on the drive is the Covered Bridge, between stops 4 and 5. If you like to hike you could even park and hike along the trails at Mount Misery (or many of the other marked trails in the park). You don't drive over the Covered Bridge as part of the tour but you do pass by it. There is parking available for hiking near the bridge should you wish to do that. The Valley Creek Trail runs along the creek and is mostly level for a low impact hike - trail maps can be found online.
Be sure to stay 6-ft (or one military canon) from others during your visit and bring masks should you need to enter the restrooms or should you be unable to keep the appropriate distance from others.
Print or grab a map. I printed a map of the tour for my kids to look at so that they knew what was coming and could visualize it if they wanted. We also were able to grab an official park map near the Memorial Arch (stop 3) but I'm not sure if they are always readily available.
The one spot where it seemed like it would be not quite the same to stay in the car is Washington's Headquarter's - it's a bit of a walk but it was cool to peek inside some log cabins and see where Washington had his quarters but you can definitely opt to stay in the parking lot, in your car and listen to the tour and then move to the next stop. You can't get inside the headquarters (or many other buildings due to pandemic precautions) but you can walk around the grounds. We also find the canons hard to resist and always like to get out and explore (translate: pretend to fire them).
We ended up picnicking early on near the Muhlenberg Brigade under a tree in the shade but some other good spots are near the Memorial Arch or Wayne's Woods. There are both shaded and sunny spots available.
Be a Junior Ranger - find details on the Junior Ranger program including an activity book here: https://www.nps.gov/vafo/learn/kidsyouth/beajuniorranger.htm
If you want to make it like a true tourist stop complete with souvenirs you can even shop the Encampment Store here: https://encampmentstore.org/shop/

| | | |
| --- | --- | --- |
| | | |
| | | |