If your family is ready for summer fun in a place where kids can have the kind of kid-friendly fun that kids need while the grown-ups can relax and feel pampered, then I've got just the pineapple-under-the-sea for you: the newly opened Nickelodeon™ Hotels & Resorts Riviera Maya.
---
I was hosted for a 3-night stay at the Nickelodeon™ Hotels & Resorts Riviera Maya in order to facilitate this review, but all opinions are my own.
---
What does it mean to live like SpongeBob? I remember watching an episode of SpongeBob SquarePants with my kids where SpongeBob gets a song stuck in his head, a "musical doodle" – an earworm – and he sang it all day, everywhere. For me, that earworm was the SpongeBob theme song as I prepped and packed for my adventures at the Nickelodeon™ Hotels & Resorts Riviera Maya.
What I soon found out was that living like SpongeBob was a lot like living his theme song! Little did I know that I was about to live it in real life in the most fun way and your kids can, too! During the #SummerofSpongebob, families can vacation in SpongeBob's world. It goes a little something like this...
🎵Are you ready, kids? (Can I get an "Aye, aye, Captain?")
Pack your bags, your sunblock, your bathing suits, your SquarePants and your inner kid! Wait until you see what's waiting for you!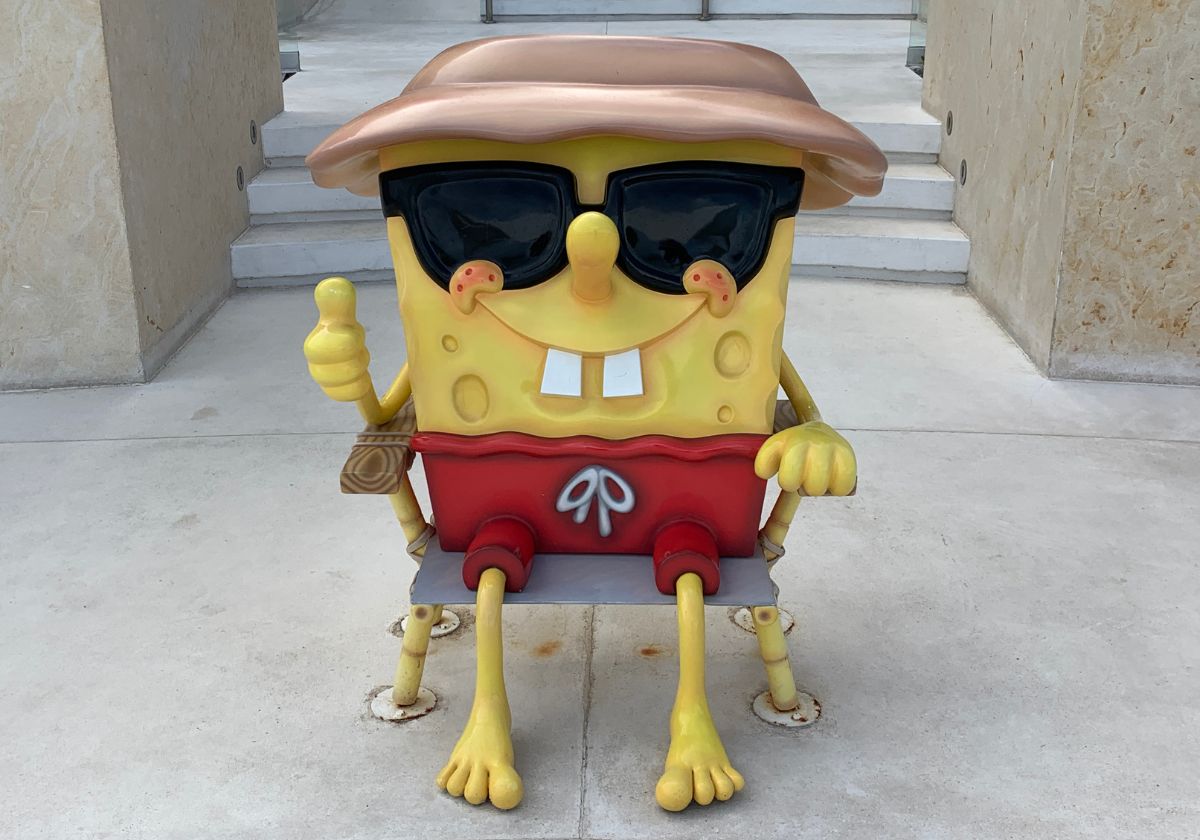 🎵 Who lives in a pineapple under the sea? Absorbent and yellow and porous is he….
Your family can live like SpongeBob! Technically your pineapple-under-the-sea will be next to the sea, the resort is an all-suite and Gourmet Inclusive® one, situated right alongside the Caribbean Sea.
Each of the 280 rooms are thoughtfully and playfully planned for families. Every single suite has its own infinity pool on the deck and offers 24-hour in-room dining.
And since we're talking food and luxury, the dining experience at Nickelodeon™ Hotels & Resorts Riviera Maya is a Gourmet Inclusive® experience where you can enjoy world-class cuisine along with other incredible amenities.
Traveling as a family will have you all feeling at home in these spacious suites with comfortable living spaces, two full bathrooms, plenty of storage, an in-room refrigerator stocked with treats and drinks and of course – Nickelodeon™ touches that will make you all feel like you are in vacation-mode.
Take a quick Suite Tour with us:
From the moment you check in, you'll see that Nickelodeon™ gets it when it comes to family travel. While the grown-ups check-in, kids can lounge in their own kid-friendly section of the lobby. From the very beginning, the resort takes care of everyone's needs.
Fun resort fact: If families really want to live like SpongeBob, they can splurge on the Pineapple Suite. There is only one at the hotel and it is a rooftop suite where you can submerge yourself in Sponge Bob's world and enjoy a private butler, massages, wine tastings, a sprawling ocean-view balcony and more. This gorgeous villa is the resort's signature dwelling.
---
🎵 If nautical nonsense be something you wish…
Of course it is, what's a vacation without some nautical nonsense? Get ready to play like a kid. In addition to the suite infinity pools, the hotel pool, and a splash spot for little ones, included with every stay at the Nickelodeon™ Hotels & Resorts Riviera Maya is admission to Aqua Nick. This water park is 6 acres of Nickelodeon™ themed water fun!
---
🎵 Then drop on the deck and flop like a fish
Aqua Nick has dozens of ways to flop like a fish including:
Bikini Bottom Beach - a multileveled water playground, water guns, tipping buckets, home to the daily Super Sliming and more!
Adventure River - 720 ft of fast-paced water fun
Lazy River - 1100 ft of winding tranquility with themed sculptures and surprises along the way
770 meters of water slides like Riptide Rush, Gnarly Half Pipe and Rad Racers
PAW Patrol Adventure Bay - with slides for the little ones featuring smaller slides and pup-sized water fun
Activity pool - with scheduled water activities
And if "dropping on the deck" is more your speed, there are numerous chaise lounges, beach chairs, a sandy area, and cabanas for rent. There is also food and bar service available.
🎵 SpongeBob SquarePants, SpongeBob SquarePants!
SpongeBob is everywhere! SpongeBob (& friends!) details are everywhere throughout the resort and you might even spot SpongeBob himself at a character sighting or nightly performance. Character meals are also available as add-ons. Kids will love Le Spatula, named in honor of SpongeBob's iconic spatula – its delicious food display will delight your entire family. You can even sit at a booth with your own tv to watch...SpongeBob SquarePants, of course. It's a delicious and playful taste of Bikini Bottom.
| | | |
| --- | --- | --- |
| | | |
---
SpongeBob got it right with all of his nautical nonsense and flopping like a fish – it turns out, it's also the makings of an amazing and memorable family vacation! As if all this SquarePants-style fun wasn't enough, grown-ups can make this the vacation of "YES!" with the Gourmet Inclusive® amenities at Nickelodeon™ Hotels & Resorts Riviera Maya. "Yes!" to kid-friendly mocktails, "Yes!" to the Ice Cream Truck at Good Burger, "Yes!" to 24-hour Room Service, "Yes!" to another swim in your suite's infinity pool – "Yes!" to all the family fun!
---
From the minute your kids arrive and throughout your stay at Nickelodeon™ Hotels & Resorts Riviera Maya, your kids will love every character detail and every bit of Nickelodeon™ playfulness they see. The Slime-tastic touches are everywhere. If you grew up a Nickelodeon™ kid like me, you'll feel like a kid again, too. You will enjoy the world-class cuisine, kid-friendly food displays and amazing character-themed meals, bars and restaurants that are part of the Gourmet Inclusive® Restaurant experience. There are cocktails and mocktails, sweet treats and more, all to add to the luxury and relaxation of your vacation.
In addition to the daytime fun, there is nighttime fun for your entire family. Families can enjoy entertainment at Nickeloden™ Place. There are regularly scheduled performances and activities including family-friendly game shows (think slime & audience participation) and character performances.
The Snick Lounge is also great spot for families to hang out. This '90s-inspired lounge will bring you back to your own Nickelodeon™ memories and your family can enjoy the game room, sports lounge and live music. It's so much fun, even Squidward would enjoy himself!
---
Are you ready to book your Summer of SpongeBob? Aye, aye, Captain!
Nickelodeon™ Hotels & Resorts Riviera Maya is celebrating SpongeBob SquarePants all summer long with themed events and other surprises in store. You can even save up to 40% and get a $400 resort credit. Get ready to make your vacation unforgettable. Visit karismahotels.com/nickelodeon-hotels-resorts/summer-of-spongebob to book your stay.